Your fall fitness fix: How & why to make it happen
Reading Time:
2
minutes
Rate this article and enter to win
Moving much? Ninety percent of college students say physical activity makes their life better (two-thirds said much better), according to a recent CampusWell survey. Consistent physical activity means more energy, better mood, and less stress. But research shows that many of us struggle to be active through life transitions—like going to college.
Good news: Students who believe they can make it happen are more likely to be active, according to a 2015 study in the Journal of American College Health. How can you build faith in your own intentions and goals? Behavioral research shows us: Incorporate activities that work for you, keep your goals realistic, and create a specific plan that anticipates likely obstacles.
Student Health 101 joined up with Bette Vargas, a college fitness trainer, to guide three undergraduates through this process. To see their strategies and plan in full, click on their images. In half an hour, you can make your own fitness plan and set yourself up for a dynamic, low-stress semester.
| | |
| --- | --- |
| | Bette Vargas is a certified personal trainer at the University of California, San Francisco. |
We all want to stay active—what hurts and helps?
You know the value of planning your physical activity
In our summer survey, two out of five returning students said they had already planned their fall fitness schedule. Close to that number of students were actively planning it. Most of the rest said they hoped to be physically active through the fall semester, but hadn't yet figured out what that would look like.
Why planning is important
For many students, starting college comes with a drop-off in physical activity, research shows. That's the biggest reason why some students struggle to maintain their fitness and manage their weight through school, according to a 2016 study in BMC Public Health.
What gets in the way?
With so many demands on students, physical activity tends to fall off their to-do list, says a 2015 study in the Journal of American College Health. In our survey, two out of five respondents said aspects of college life (most frequently, assignments and tiredness) make it difficult for them to be as physically active as they'd like.
What helps?
On the other hand, almost half the survey respondents said access to fitness resources (such as the college rec. center) make physical activity easier. Peer influences are also helpful, students said. This aligns with the research. The physical activity habits of college women tend to carry over to mid-life, and the "supportive social atmosphere" of school fitness programs is likely a key factor in setting students up for long-term success, according to the Journal of Exercise Physiology (2009).
Source: Student Health 101 survey, May 2016; 1,500 responses. This survey is not representative of students nationally.
"Varied workouts rock—varied schedules, not so much"
Sonya M.
Fourth-year undergraduate
Northern Illinois University
"Physical activity makes me feel strong and agile, free yet in control. I strive to look forward to working out, and I do that by finding variety. The challenge is that every day is different. Things are constantly popping up, in between nursing school and clinicals."
My strategies
Find a workout buddy
Work out early
Work out at home
Bette Vargas
"To include the camaraderie of your friends, why not plan a fun event like a hike, swim/pool party, or bike ride? This way, in a stress-free environment, you can talk about how to support each other. You may enjoy taking a variety of group classes to alleviate boredom."
How I'm going to rock it
Here's what works for me:
Find a workout buddy "Having a friend or family member hold you accountable really helps with motivation."
Work out early "I find it a chore to keep thinking about my workout later in the day."
Work out at home "When I'm strapped for time, I'll find a blood-pumping workout video on YouTube or Pinterest."
So here's how I'll get moving:
I'll recruit a friend to try a new class at the rec. center once a week.
I'll check my changing schedule each week and reserve two or three days for morning weightlifting or cardio at the gym, before I head to clinical.
In nice weather I'll take my dog for a jog or bike for 30 minutes; in rain or cold I'll search for a fun online workout video.
On weekends I'll practice advanced yoga for 20–60 minutes (it's easy to lose track of time, since it's my favorite!).
"Switching the environment and variety of my workouts will help me stay interested. And waking up early will guarantee I get my workout in for the day, so I'm not fretting about it later."
ALERT! Are morning workouts realistic for you? Many college students are night owls. How can you make physical activity convenient and enjoyable for you?
"I want to be a powerful athlete—and I want it now"
Wengang X.
Fourth-year undergraduate
Rutgers University, New Jersey
"Daily workouts help me gain muscle, power, and strength, and bring me one step closer to my dream of being a great American football player in my home country of China. It can be a challenge to fit everything in, and when I don't see results after a crazy workout I wonder, 'Am I wasting my time?'"
My strategies
Find inspirational music and videos
Stay positive through frustration
Work out at home
Bette Vargas
"Be patient with your development, and keep it simple. Crazy workouts may be counterproductive because you run the risk of injury. Gaining muscle is a long, slow process and will require patience and dedication. Positive change comes when the body is at rest. Speak with the athletic trainer at your school regarding an exercise program for the specific position you would like to play."
My breakthrough training plan
Here's what works for me:
Find inspirational music and videos "I listen to 'epic music.' My favorite band is Two Steps from Hell and my favorite video is Eric Thomas's How Bad Do You Want It series."
Stay positive through frustration "I sometimes get in the mind-set that if I can't make it to gym or don't see fast results, I'm a failure."
Work out at home "This can save me some time so I can focus on my studies."
So here's how I'll get moving:
I'll go to the gym four days a week, alternating between lower body and core and then upper body. Weekends will be my rest day.
I'll log my progress in a notebook, which will help me see my improvements and keep me from getting frustrated.
I'll recruit a friend to come with me one day a week, especially when I need an extra motivation boost.
When I'm strapped for time or if the weather is bad, I'll use apps. The Big Six and Convict Conditioning are great and don't require equipment.
I'll share my progress on social media so my friends can provide feedback and encouragement.
"I know I still have a long way to go before becoming a football player. With support from friends and family, I'll be able to eliminate the unrealistic expectations about gaining a large amount of muscle in a short period of time."
ALERT! Support from others is key to developing healthier routines. Tracking your workouts and progress helps a lot with maintaining motivation.
"Missing a workout's a bummer—but I can be active en route"
Taylor R.
Fourth-year undergraduate
Hobart and William Smith Colleges, New York
"When I need to relieve stress from studying, I throw on my boxing gloves. Biking or taking a long walk around campus also helps calm my mind. Staying active makes me feel like I've accomplished something. But between classes and multiple jobs, I usually rely on a canceled meeting to get to yoga. At the gym, I feel uncomfortable, like people are watching me."
My strategies
Get it in my schedule
Work out at home
Walk or bike where I can
Bette Vargas
"For some people, a missed session brings discouragement and can spell doom for their workout regime. Be gentle with yourself. Keep it in perspective and get back to it the next day. And walking or biking instead of driving incorporates activity organically. Remember that you have every right to be in the gym. Plus, the people who you think are looking at you may just be staring into space waiting for their next set!"
My moves for staying chill
Here's what works for me:
Get it in my schedule "Seeing it in writing makes it feel like an obligation I can't miss."
Work out in my room "I'll search YouTube for a cardio or yoga video to get in a quick workout."
Walk or bike where I can "I haven't had a car in the past year, so I rely heavily on walking or biking everywhere as my exercise—whether downtown to get food or to campus for class."
So here's how I'll get moving:
I've scheduled gym sessions for Mondays (my free night) and Wednesdays (I have time during the day).
Tuesdays and Thursdays are busier, but a home yoga session will help me unwind.
Friday mornings are free, so I'll either head to the gym or take a fun fitness class.
Keeping in the habit of walking everywhere, I'll avoid taking shortcuts and increase to a brisk pace.
Two weekends a month, I plan to get outside for a hike or bike ride.
"My plan seems realistic for my schedule. I'm very calendar-oriented, so if I can make working out a planned event, then I won't have the excuse of not having time. It's also that I do what I enjoy, or else I'll become bored or frustrated. Enjoying biking and walking helps me plan to do them more often."
ALERT! You don't need to be active every day. Realistic plans and goals are key: Once a week is better than never. Scheduling anything into the calendar makes us more likely to do it, research shows.
---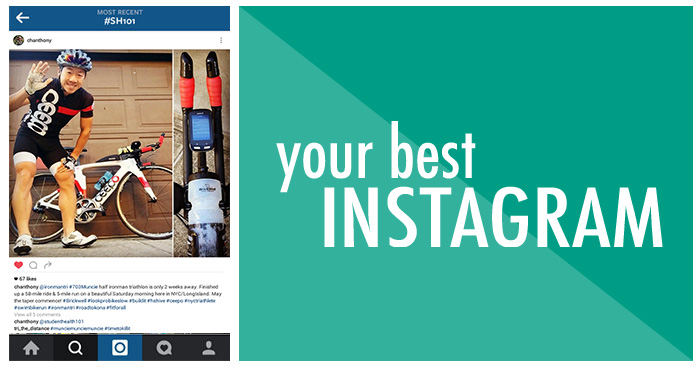 "I plan to stay fit this fall semester by training for the an event in Hawaii. Lots of swimming, cycling and running will be involved as I prepare for the race!"
—Anthony Chan, graduate student, St. John's University, New York
Follow us on Instagram and don't forget to use the hashtag #fitforfall
Get help or find out more
[survey_plugin]
Article sources
Bette Vargas, certified personal trainer, University of California, San Francisco.
Crozier, A. J., Gierc, M. S., Locke, S. R., & Brawley, L. R. (2015). Physical activity in the transition to university: The role of past behavior and concurrent self-regulatory efficacy. Journal of American College Health, 63(6), 384–385.
Godman, H. (2014, April 9). Regular exercise changes the brain to improve memory, thinking skills. Harvard Health Publications. Retrieved from
https://www.health.harvard.edu/blog/regular-exercise-changes-brain-improve-memory-thinking-skills-201404097110
Hultquist, C. N., Duckham, R., Stinson, C., & Thompson, D. L. (2009). College physical activity is related to mid-life activity levels in women. Journal of Exercise Physiology, 12(4), 1–7. Retrieved from https://www.asep.org/asep/asep/JEPonlineAugust2009Hultquist.doc
Kemmler, W. (2016, January). Impact of exercise changes on body composition during the college years: A five-year randomized controlled study. BMC Public Health, Retrieved from https://bmcpublichealth.biomedcentral.com/articles/10.1186/s12889-016-2692-y
Kwan M. Y., Cairney J., Faulkner G. E., & Pullenayegum, E. E. (2012). Physical activity and other health-risk behaviors during the transition into early adulthood: A longitudinal cohort study. American Journal of Preventive Medicine, 42(1), 14–20.
Student Health 101 survey, June 2016.
(Visited 7 times, 1 visits today)
About

Diana Whelan

Diana Whelan is a senior copywriter at CLEAResult. Previously, she was the managing editor at Student Health 101, and has written and edited articles for condition-specific publications distributed in physician offices nationwide. She holds a BA in Rhetoric & Professional Writing from the University of Hartford.