4 ways to avoid the temptation to cheat on your next exam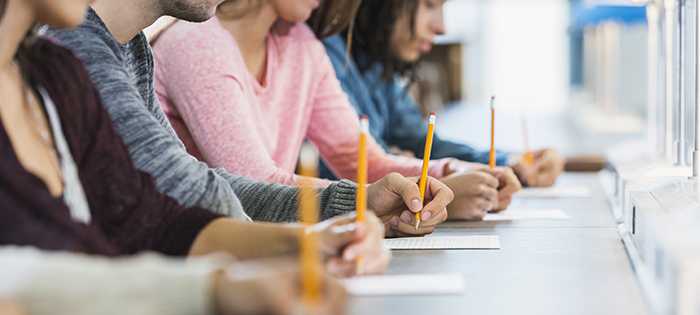 Reading Time:
6
minutes
Rate this article and enter to win
One semester, Alyse C., a recent college grad, was struggling in one of her marketing classes. "I just wanted to do well enough on the exam that I could pull my grade up to a C or something," she says. She found some tips online about how to hide her notes and see them during the test. "Of course, my teacher caught me. He didn't embarrass me in front of the class, but he took my exam away."
After the exam, Alyse's professor spoke to her, and they went to the dean. Alyse says she feels very lucky to have gotten just a warning and an F, and she says she never did it again. "It wouldn't have been worth getting kicked out of school," she says.
What cheating could mean for you
Despite the massive consequences cheating can have (e.g., failing the class or getting kicked out of school), it happens quite a bit—almost 30 percent of students surveyed in a recent Student Health 101 poll copped to cheating at some point in their academic career.
The problem is, cheating doesn't always feel as black and white as Googling answers under your desk or paying someone to write a paper for you. "I believe, for the most part, students don't come to college intending to cheat," says James Black, director of the Center for Academic Achievement at Susquehanna University in Pennsylvania. "More often than not, they get overwhelmed and panic."
However, "the value of your degree depends on the integrity of your degree," says Jessica Waters, dean of undergraduate education at American University in Washington DC, which is why schools take cheating so seriously. If you're unsure of your school's policy on cheating, check out your student handbook.
Why students cheat—and how to avoid it
Considering the consequences of getting caught cheating, why do so many students do it? "Cheating on exams is rarely premeditated," says David Rettinger, executive director of the Center for Honor, Leadership, and Service at the University of Mary Washington in Virginia. "It's more commonly a crime of opportunity"—that is, students find themselves in a situation where the answers are available, and they take advantage of it.
Another major reason students cheat? "Lack of time management," says Waters. It's not hard to see how this happens. Many students are dealing with an intense class load, the pressure to keep their GPA up, and a part-time job to help with the cost of their education. These intense pressures could make anyone feel stressed and even desperate. Nichelle M.*, a fourth-year undergraduate at the University of Massachusetts, says it's the intense stress of wanting to do well that has led her to cheat in the past. "Usually it's when the work of other classes hasn't left me enough time to study for the exam," she says.
Waters agrees that most students who cheat don't usually set out with the intent to be dishonest—like Nichelle, they find themselves in a situation where cheating seems like their best or only option. "Often, students who cheat haven't set aside enough time to complete a paper," she says. "[They] start researching online at 2 a.m. and find themselves copying and pasting material to cobble [it] together. This is a recipe for disaster."
Unfortunately, no matter how understandable a little cheating might seem, it's still a serious risk to your academic career.
How to avoid the temptation to cheat
One of the best ways to keep yourself out of a situation where you're tempted to cheat is by practicing better time management. Here's how:
1. Check your syllabi at the beginning of the semester and flag any due dates that fall close together.
"I had four tests in one day, and I had stayed up all night studying for three of them," says Alex Z.*, a first-year undergraduate at Sage College of Albany in New York. "By the time I got to the fourth subject, it was 3 a.m. and I needed to go to sleep—I panicked that I was going to fail and I copied an answer from my notes on the test." If you're worried about this happening, block out specific days to study for each of the tests in the weeks leading up to them. This way, it's already in your calendar and you can tackle studying one subject at a time.
2. Give yourself plenty of time to research.
When it comes to papers (even the short ones), "set aside enough time to thoroughly research, write it carefully, and then have time to check that you've properly attributed and cited any resources," says Waters. "When in doubt, cite!"
3. Get organized.
"Taking extra time to organize might feel like you're taking time away from your studies, but being organized will actually give you so much more time in the long run," says Delaina E., a first-year student at Boise State University in Idaho. "Being organized cuts down on anxiety and allows you to just focus on what you need to."
4. Ask for help.
If you do find yourself in trouble, whether it's a time crunch or struggling with the material, ask for help—the earlier, the better. If you're utterly overwhelmed, let your professors know as soon as possible. They may be more sympathetic earlier in the process (e.g., allowing an extension on an assignment, a recommendation to get accommodations, an appointment to go over material you don't understand well, etc.) rather than to an eleventh-hour plea. "Most professors are kind and understanding, and so much stress and struggle can be avoided if you say something—communication is key," says Tiffany K., a fifth-year undergraduate student at the University of Victoria in Canada.

Citing sources to avoid plagiarism
It's also important to ensure you know when and how to cite sources properly, since not doing so could be considered plagiarism. If you're unclear on proper citation conventions—how to document sources and ideas in your work—visit your school's writing lab, speak with a peer tutor, or consult your instructors. The Purdue Owl is also an excellent resource.
What to do if you get caught
"If you're accused of plagiarism or other academic dishonesty, make sure you understand your school's policy and the potential sanctions," says Waters. "While such a charge can have severe consequences—including dismissal—it's important to view this as an opportunity to learn a valuable lesson"—for example, how to avoid getting in a situation where you end up cheating.
If you're allowed to remain enrolled in the class, make sure you're 100 percent clear on what behaviors are considered cheating and exactly what put you in the position to cheat in the first place.
Above all, be honest. "If you try to lie, make excuses, or make up stories to hide your tracks, it'll only make things worse," says Isra A., a fourth-year undergraduate at Texas Women's University.
Ultimately, the consequences just aren't worth it—no matter how easy or justifiable cheating seems. "I did it once and realized that you can never feel good about yourself or your accomplishments if you cheat," says Lynne M.*, a fourth-year undergraduate at Cuesta Community College in California. "I have never done it again—I would rather try and fail and be proud of my efforts than cheat."
[school_resource sh101resources='no' category='studentservices,studentsucess,studentsucess']
GET HELP OR FIND OUT MORE
[survey_plugin]
Article sources
James Black, director, the Center of Academic Achievement, Susquehanna University, Selinsgrove, Pennsylvania.
David Rettinger, executive director, the Center for Honor, Leadership, and Service, and associate professor of psychology, University of Mary Washington, Fredericksburg, Virginia.
Jessica Waters, dean of undergraduate students, American University, Washington DC.
Best College Reviews. (2012). Cheating in college: The numbers and research. Retrieved from https://www.bestcollegereviews.org/cheating/
Dillion. W. (26 June, 2006). Study examines why students cheat. Ames Tribune, as printed in USA Today. Retrieved from http://www.usatoday.com/tech/science/2006-06-26-cheating-study_x.htm
Grasgreen, Ali. (16 March, 2012). Who cheats, and how. Inside Higher Ed. Retrieved from http://www.insidehighered.com/news/2012/03/16/arizona-survey-examines-student-cheating-faculty-responses
Iowa State University News Service. (15 June, 2006). Why do some students cheat? They rationalize it, ISU research finds. Retrieved from http://www.public.iastate.edu/~nscentral/news/06/jun/rationalizing.shtml
Talk of the Nation. (19 July, 2010). Cheating in college is widespread—but why? National Public Radio. Retrieved from http://www.npr.org/templates/story/story.php?storyId=128624207
Young, J. R. (18 March, 2010). Cheaters never win, at least in physics, a professor finds. Chronicle of Higher Education. Retrieved from http://chronicle.com/blogs/wiredcampus/cheaters-never-win-at-least-in-physics-a-professor-finds/21895
(Visited 33 times, 1 visits today)
About

Macaela Mackenzie

Macaela Mackenzie is a graduate of Northwestern University and a freelance journalist for Self, Shape, Women's Health, and Allure, among others.