Rethinking salad: How to eat happy
Reading Time:
< 1
minutes
Rate this article and enter to win
Happiness is…a salad? Before you count us out as weirdos with a concerning affection for kale, let us explain. What we eat can affect our moods for up to two days afterward, research shows.
Undergraduates who ate foods high in calories, saturated fat, and sodium reported feeling moody and blah in the aftermath, said Dr. Helen Hendy, a psychologist at Pennsylvania State University, in the journal Appetite (2012).
But students who ate fruits and vegetables felt happier until the following day, even after other influences had been ruled out, according to "Many Apples a Day Keep the Blues Away" (2013), a British study.
So go ahead and get your greens on with our Ultimate Easy Happy Salad. We'll tell you what to do and why it works, and you'll be a believer in no time.
Click each to learn more: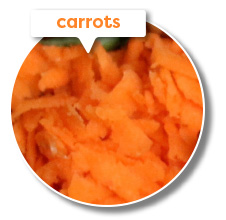 Typical cost
$1.50 per 16 oz. pack
How they work
Vitamin E stimulates dopamine, a neurotransmitter associated with feelings of reward and pleasure. Pairing complex carbs (e.g., veggies) with a healthy source of protein and fat (e.g., hummus) allows the natural sugars to release slowly, enabling blood sugar levels to remain stable and keeping you satisfied longer.
Happy bonus
Vitamin A is here too, and is good for our skin.
How to eat
Dip in hummus or ranch dressing; add shredded carrots to stir-fries or salads.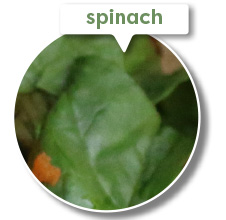 Typical cost
$2.50 per 8 oz. pack
How it works
Vitamins B6, B9, and C, and omega-3s help synthesize mood-boosting brain chemicals, such as serotonin and dopamine.
Happy bonus
Antioxidants help us resist disease.
How to eat
Sauté, add to smoothies, or use in our Ultimate Easy Happy Salad.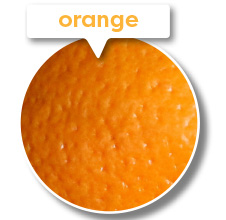 Typical cost
$1.25 for a navel orange
How they work
Vitamin C boosts energy levels by aiding iron absorption; Vitamin B6 and B9 (folate) appear to protect us from depression; thiamine is linked to improved mood.
Happy bonus
Vitamin C protects the immune system (but won't cure your cold).
How to eat
Peel, chomp, wipe fingers.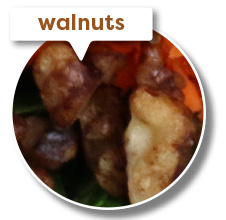 Typical cost
$6.00 for a 6.5 oz. tub
How they work
Zinc and omega-3 fatty acids promote calm. Vitamin B9 (folate) appears to protect us from depression.
Happy bonus
Omega-3 fatty acids help decrease inflammation and disease risk.
How to eat
From the packet—or crack 'em open. One serving of nuts is approximately 1 oz. (a handful)—about 14 walnut halves.
Make it: Ultimate Easy Happy Salad
Ingredients
12 oz. spinach, washed, trimmed, and dried (1 bunch)
⅓ cup walnuts, coarsely chopped
2 Tbsp. low-sodium soy sauce
½ cup shredded carrots
Orange vinaigrette (see recipe below)
Directions
Mix soy sauce and walnuts. Roast for 15 minutes at 350° F (175° C) or until golden.
Mix spinach greens, shredded carrots, and roasted walnuts together.
Toss lightly in vinaigrette.
---
Orange vinaigrette
Ingredients
Juice of two navel oranges
¼ cup olive oil
Sea salt
Black pepper
2 tsp. honey or maple syrup
2 tsp. apple cider vinegar
Directions
Peel oranges and squeeze juice into a mason jar or small container with lid.
Add remaining ingredients.
Shake until combined.
Store the excess, or use as a marinade.
+ Download the recipe
Get help or find out more
[survey_plugin]
Article sources
Carol Landau, PhD, clinical professor of psychiatry and human behavior and medicine, Alpert Medical School, Brown University, Providence, Rhode Island.
Abou-Saleh, M. T., & Coppen, A. (2006). Folic acid and the treatment of depression. Journal of Psychosomatic Research, 61(3), 285–287. doi:10.1016/j.jpsychores.2006.07.00
Coppen, A., & Bolander-Gouaille, C. (2005). Treatment of depression: Time to consider folic acid and Vitamin B12. Journal of Psychopharmacology, 19(1), 59–65.
Hakkarainen, R., Partonen, T., Haukka, J., Virtamo, J., et al. (2004). Is low dietary intake of omega-3 fatty acids associated with depression? American Journal of Psychiatry, 161(3), 567–569. Retrieved https://www.ncbi.nlm.nih.gov/pubmed/14992986
Hendy, H.M. (2012). Which comes first in food—mood relationships, foods or moods? Appetite, 58(2), 771–775. doi:10.1016/j.appet.2011.11.014
Hopf, S.M. (2011). You are what you eat: How food affects your mood. [Blog post.] Dartmouth Undergraduate Journal of Science. Retrieved from https://dujs.dartmouth.edu/fall-2010/you-are-what-you-eat-how-food-affects-your-mood#.UzluXleqSFh
Hvas, A. M., Juul, S., Bech, P., & Nexo, E. (2004). Vitamin B6 level is associated with symptoms of depression. Psychotherapy and Psychosomatics, 73(6), 340–343.
Kimiecik, J. (2011). Exploring the promise of eudaimonic well-being within the practice of health promotion: The "how" is as important as the "what." Journal of Happiness Studies, 12(5), 769–792. doi:DOI 10.1007/s10902-010-9226-6
Peet, M., & Stokes, C. (2005). Omega-3 fatty acids in the treatment of psychiatric disorders. Drugs, 65(8), 1051–1059.
Prices from Peapod/Stop&Shop. Retrieved August 2016 from: www.peapod.com.
Sawada, T., & Yokoi, K. (2010). Effect of zinc supplementation on mood states in young women: A pilot study. European Journal of Clinical Nutrition, 64; 331–333. doi:10.1038/ejcn.2009.158
Swardfager, W., Herrmann, N., & McIntyre, R. S. (2013). Potential roles of zinc in the pathophysiology and treatment of major depressive disorder. Neuroscience and Biobehavioral Review, 37(5), 911–929.
White, B., Horwath, C., & Conner, T. S. (2013). Many apples a day keep the blues away—daily experiences of negative and positive affect and food consumption in young adults. British Journal of Health Psychology, 18(4), 782–798.
Wyatt, K. M., Dimmock, P. W., & Jones, P. W. (1999). Efficacy of vitamin B-6 in the treatment of PMS. British Journal of Medicine, 318(7195), 1375–1381.
(Visited 3 times, 1 visits today)
About

Joanna Carmona

Joanna Carmona is communications coordinator at the National Patient Safety Foundation. Previously, she was an assistant editor at Student Health 101. She has also edited collegiate textbooks for Cengage Learning and creating language learning materials for the US Department of Defense, libraries, and other educational institutions. Her BA in Spanish is from the University of New Hampshire.