Help lower student stress by promoting use of green spaces
Reading Time:
3
minutes
Students are under a lot of stress right now, which can hinder academic achievement and graduation rates. College administrators can help their students tackle stress by providing resources and support for them to be more mindful, get better sleep, and choose healthier foods. One lesser known—but scientifically backed—way to help reduce student stress? Encourage them to be more physically active in green spaces (e.g., parks, trails, gardens, tree-lined paths).
Green spaces can make us feel better, have a more positive outlook, and even improve our health and well-being. This has been documented in various studies of people who live close to parks and woodlands, have views of nature from their windows, and those who frequently spend time in natural areas. New research suggests that university students who actively use green spaces experience reduced stress, improved moods, and have a higher quality of life. 
How does spending time in green spaces affect student wellness?
A 2019 study in the International Journal of Environmental Research and Public Health surveyed hundreds of students to answer this question.
Perhaps not surprisingly, students who frequent green spaces report better indicators of health and wellness, such as a higher quality of life, better moods, and lower stress. This was particularly true for students who used green spaces for physical activity (e.g., running, hiking, biking), moreso than those who used green spaces passively (e.g., sitting, studying, relaxing).
There are several ways that being active in a natural environment can help improve student health and well-being.
Green spaces provide an environment that encourages social interactions and community cohesion, which are vital for mental health.

Being immersed in nature can reduce exposure to some everyday stressors and promote restoration (recovery from the cognitive fatigue arising from daily stressors).

Physical activity can improve both physiological and psychological health

Encourage students to actively use green spaces with CampusWell
Imagine being able to improve student health and well-being simply by encouraging them to use green spaces that are available to them (wherever they're currently residing). This may seem simple, but one of the reasons students gave for not being active in green spaces is that they were not aware of on-campus or off-campus opportunities to do so.
"Administrators, faculty, and student life staff could facilitate green space use via a variety of university programming options: campus wellness programs can build familiarity by guiding students through available walking/running trails, and promote their use for stress reduction activities," say the study authors.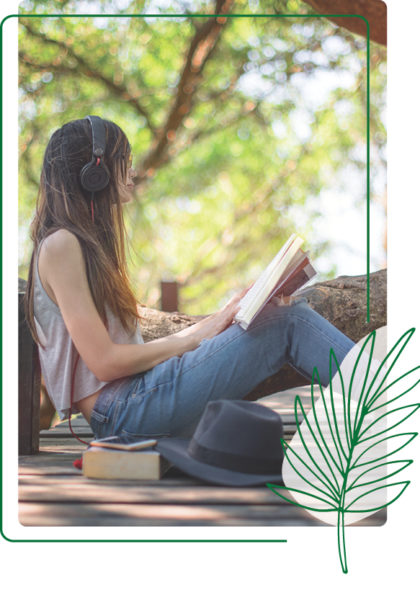 If students aren't currently on campus, administrators can still guide them on the importance of being active in green spaces and how to locate them in their community. 
CampusWell's goal is to partner with schools to help administrators improve academic achievement and retention by supporting student wellness. Our engaging, student-centered content can inspire your students to mange their stress in many ways, including via outdoor workouts and strategies for staying safe and active in all seasons. We also provide relatable resources to help students in other areas, such as how to study more effectively, become more mindful, have healthier relationships, and improve their financial knowledge and skills. 
Plus, with the customizable CampusWell platform, your environmental, sustainability, athletics (and all) departments can communicate directly with students to provide them updates and ideas to enjoy—and benefit from—the great outdoors.
Holt, E. W., Lombard, Q. K., Best, N., Smiley-Smith, S., & Quinn, J. E. (2019). Active and passive use of green space, health, and well-being amongst university students. International Journal of Environmental Research and Public Health, 16(3), 424. https://doi.org/10.3390/ijerph16030424
Holt, E. W., Lombard, Q. K., Best, N., Smiley-Smith, S., & Quinn, J. E. (2019). Active and passive use of green space, health, and well-being amongst university students. International Journal of Environmental Research and Public Health, 16(3), 424. https://doi.org/10.3390/ijerph16030424
Start promoting wellness on your campus today
(Visited 21 times, 1 visits today)