One simple CampusWell sleep article changed this student's life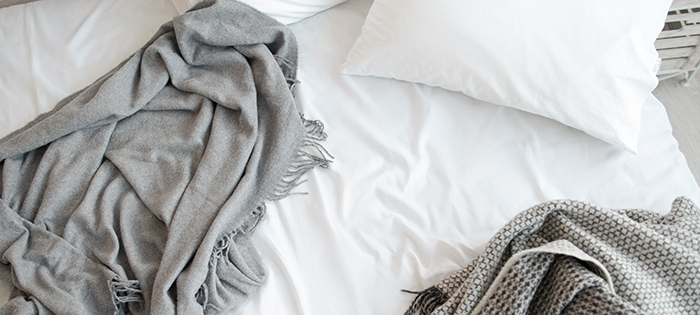 Reading Time:
2
minutes
With looming deadlines, family responsibilities, and social lives, most students would agree that there aren't enough hours in the day to fit in all that needs to get done. To cross everything off the to-do list, many become night owls and consistently cut into their sleep.
"Sleep is something I've struggled with because I got accustomed to staying up late at night, and I'm not really a morning person," says Carolyn Feyling, a senior at Shasta College in Redding, California. "But after having kids and adjusting my schedule because of school, I don't have a choice anymore."
While a couple late nights aren't going to throw off someone's overall well-being, chronic sleep deprivation is a serious issue because it can affect mental ability and energy levels all day long. In other words, students might be staying up late to study, but when it comes time to take the exam, their memory and performance won't be up to par if they've been skimping on sleep.
"The way the [CampusWell] sleep article was worded just clicked in my brain," says Feyling. "When you're trying to change your sleep schedule, it's not about drastic changes but about making incremental changes—so something as simple as moving your bedtime 10, 15, or 30 minutes each night toward the ideal time you'd want to wind down. That way, you can wake up earlier and feel so much more refreshed."
Tried-and-tested solutions like incremental bedtime adjustment are simple and easy to remember for busy students. Many simply don't have the time to research topics like sleep, so it's crucial that articles are informative but never overwhelming.
I drink my coffee while I look through the e-newsletter articles. That's how simple of a read it is.
CAROLYN FEYLING
SHASTA COLLEGE
"I like how the articles introduce a topic, give a few tidbits that are easy to remember, and plant a seed for readers to roll with. It's not information overload—it's always just the right amount," says Feyling.
Simple can sometimes be incredibly effective, as proven by the benefits Feyling is enjoying since getting accustomed to her new (much earlier) bedtime.
"I adjusted my bedtime over about a week of increments, and then I slowly found myself having more energy to focus on daily tasks and my studies," she says. "Plus, I can physically do more, so I'm staying more active and being consistent with that. It really helped."
CampusWell is a versatile platform that helps make a multi-departmental wellness initiative simple, sustainable, and engaging. Using technology, high quality, research-based content, and proven marketing strategies, together with your existing assets, we deliver a campus-wide wellness platform that will positively impact your students and institution.
Start promoting wellness on your campus today
(Visited 7 times, 1 visits today)