25

Sep
Reading Time: 2 minutes It's World Peace Day! Learn some easy ways to help spread peace in your life.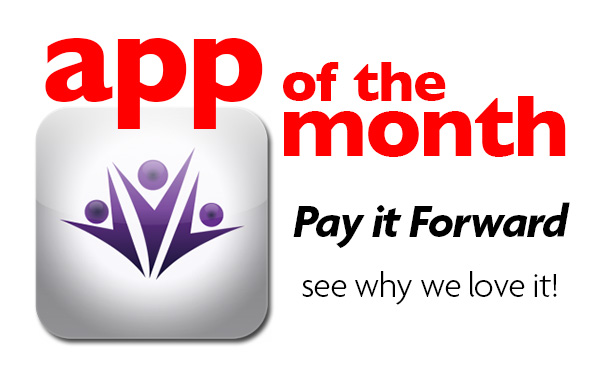 01

Feb
Reading Time:
< 1
minutes
Why we love it:
Performing random acts of kindness just got easier with the Pay it Forward app.  Download it today for these benefits:
Daily reminders to be kind, and specific suggestions: e.g., "When you receive good service, tell the person's manager or boss," or "Give up your seat on a crowded train."
Track your acts of kindness
Witness the impact of kindness worldwide
Share your idea for how to make someone's day
The random acts are simple and fun. Users can share their good deeds with family and friends, encouraging others to pay it forward. Need more ways to be kind? Check out this month's Wellness Event.
Price: $0.99
Devices: iPhone. Android
For more information, CLICK HERE.
Similar App
App: Acts of Kindness
By Sinecure Industries
Price: Free
Devices: iPhone
For more information, CLICK HERE.
01

Feb
Reading Time:
< 1
minutes
How are you honoring Random Acts of Kindness Week (February 9-15)? Most people would agree that kindness has many benefits. Did you know it's good for your health? It's true: Kindness relieves stress. Kindness also improves mental health, test scores, and behavior. It's contagious: Kindness leads to more kindness.
So what are some simple acts of kindness you can do every day? Try these:
Walk a dog for a local senior (especially if it's snowing, wet, or icy)
Hold the door open for someone
Pay it forward when buying coffee, donuts, or lunch
Tell people how great they are
Collect jeans for homeless youth or cell phones for domestic abuse survivors
Let someone in line in front of you
Be warm and supportive online
Donate used textbooks and sporting equipment
Become an organ donor
Smile at strangers
Don't litter (and pick up other people's litter)